Over a third of those that I polled recently came from a combination of Seeker-Sensitive or Southern Baptist Church backgrounds before embracing the Doctrines of Grace.
My own church background was from those same two, first growing up in a Southern Baptist Church and then later in my early twenties going to a more Seeker-Sensitive type of Mega Church.
After that I got a job as a delivery driver that led to me to be able to listen to a lot of Christian radio throughout the work day. My favorite channel was a Calvary Chapel channel which featured mostly Calvary Chapel preachers, but also aired Truth For Life with Alistair Begg and The Way of the Master Radio (WOTM).
After sensing the shallowness of the Mega Church environment, I almost began the search for a Calvary Chapel Church in my area... but one day I was listening to WOTM and heard Paul Washer's "
Shocking Youth Message
" and my world sort of turned upside down.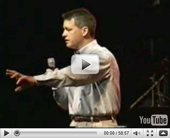 This phrase stuck in my mind,
"Salvation is not merely a human decision but a supernatural work of God."
Wow!
I could no longer argue against this strange Calvinism teaching on the discussion boards as I had been doing. I began to compile a small library of books from Reformed authors and bypassed the Calvary Chapel Church search altogether to look for a Reformed Baptist Church.
That's sort of my short story of my journey into Sovereign Grace, which happened in the Summer of '07. So, what's your story? Did you come from a Calvary Chapel or Pentecostal Church, or somewhere else? Did you stay there?
Was it a book, a certain sermon, a debate, or just reading the Word that opened your eyes to God's Sovereignty in salvation?
Click on "comments" below and tell us about it.